It's been almost 5 months since Mabel didn't start school, so I thought I would write a little update on how we're finding it so far. Well, where do I start? I'll be honest it's not quite what I was expecting back in August when I started preparing for official home education. I had all these plans, schedules and topic lists, I had visions of pinterest crafts and workbooks and projects we could do together and well, it hasn't exactly worked out like that so far. Don't get me wrong, there has been a bit of that. But there's mainly been an awful lot of err… not that.
Because Mabel at the end of the day is four years old, pretty much all she wants to do is play. Also sing, dance, make a lot of mess and watch cartoons… but mostly just play. Which when you think about it is probably what she is meant to spend her time doing… after all she's not even five yet.
When I want to sit down and do a carefully chosen and planned out craft activity with her, she couldn't be less interested. Then the minute I turn my back, out comes the paint, paper, glue and scissors, and before I have a chance to say 'for pity's sake put an apron on and let me cover the table child!' the dining table is the centre of some pretty intense creative action (or sometimes the wall but let's not talk about that today).
And that's the most important thing I've learnt about learning with my little free spirited girl… just leave her to it. I set things up, bring in new resources that I think look interesting and hang around mostly to wipe up spillages but also to answer questions every now and again… and that's pretty much all I'm needed for.
The biggest challenge for me is learning to step back, be ok with it when projects aren't finished or veer off in a completely different direction to the one I was thinking of and chill out when she just wants to play for a whole week. This isn't a box ticking exercise, it's not a race to learn to read and write and do times times tables, it's not a set of criteria that we need to fill.
This is learning through real life and it's messy. It's all over the place to be honest. If our homeschool was in a pub it would be refused service. It's quite often wearing pyjamas with paint in our unbrushed hair and compost all over the table. It's regularly making such a mess in the playroom because their imaginary world just calls for every types of toy to be dragged out and scattered across the house. It's sometimes emptying the contents of the kitchen cupboards into a bowl to make a potion to reverse the spell the wicked witch put on your dolly. It's loud and crazy and everything and nothing.
I hope we're slowly, very slowly making our way towards one day doing those lovely projects together, learning crafts together, reading chapter books together. At some point in the future I'm sure we'll get there. But for now I'll take our messy crazy homeschool over school runs and homework tasks all day long.
I filmed a little update about our homeschool which includes a bit more about the kind of things we've been up to this month.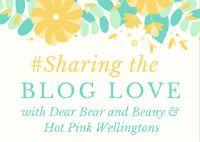 Join the fun
Get a weekly round-up and exclusive content from our home educating, slow living, everyday adventure seeking life...