For a few months now I've been struggling with Mabel and some of her behaviour. For the most part she is still the kind, considerate, creative, sociable, gorgeous little girl that she's always been. But then there's the times that she drives us mad, she gets hyperactive, she acts on impulse, she gets tired and frustrated and she lashes out. But that's all just normal three/four year old behaviour right? Of course it is. It's hard work, but we can deal with that. But recently there's been something else going on, a side of her has come out that I just don't recognise. Not all the time…. but sometimes. She's been spiteful, deliberately causing upset and then laughing when we tell her off, doing things that she knows she's not supposed to do, doing the opposite of what she's been asked. It's classic attention seeking behaviour, and now that I'm writing it all down, I can't believe that it's taken me this long to get to the bottom of it. But when you are living it day in day out, when every day starts with the promise that today will be better, and ends in a cloud of anger and regret, when you feel like you are trying as hard as you can and yet still get it thrown back in your face day after day, it's really hard to see what is right in front of you.
Regular readers will know that Mabel doesn't go to preschool, she's at home with me, her sister and her baby brother all week. In my mind I suppose it never occurred to me that she could be lacking my attention when I'm with her 24/7. But I knew that something was wrong and something was bothering her little self, I just couldn't work out what it was.
For months I beat myself up, every time we had a run in I replayed the whole day in my mind over and over again. I knew it was my fault, I knew there was something that I had to change, because how can you expect a four year old to modify their own behaviour? She was just reacting to her environment, the environment was wrong, not her, and that meant that I was wrong. I was getting it wrong fro my beautiful little girl. I thought that she must be bored, after all, most kids her age spend at least 15 hours a week at some form of preschool. I spent months beating myself up about not doing enough with her, not having enough time for crafts and activities, not taking her out to groups enough to see other children. I tried and tried to do more, be better, but everything I tried to do it felt like she sabotaged. I would try to get everyone dressed to go out to a group and she would run off and make a mess somewhere, refuse to get dressed, take everything off as soon as I was looking the other way. If I tried to do painting with her she would make as much mess as possible, painting her entire body so she needed a bath, winding up her sister until she cried and then painting the table too for good measure. I was trying to entertain her and make her happy, but it felt like she was doing everything she could to make my job as hard as possible. Or we'd have a lovely time crafting together and then half an hour later she would be acting up again, emptying the contents of the kitchen cupboards onto the floor or smearing my makeup over the carpet. I just didn't get it, I was doing the right thing, why wasn't she responding? And as much as I tried to start every day with a clean slate and a positive attitude, I couldn't cope with the bad attitude she kept hitting me with. By halfway through the day I was grumpy, resentful and snappy. And then later on full of regret, tomorrow I will be calmer, tomorrow I won't snap, tomorrow I will handle it better and maybe it won't go so wrong.
Until the morning that I really did snap. The morning that Mabel poured 4 pints of milk on the floor for the 5th time in a week, 10 minutes after she had promised me that she wouldn't make a big mess while I just had a quick shower before we got on with our day.
I called her a horrible girl and text my Mum to say she'd have to come and get her, I couldn't stay calm with her any more. Luckily my Mum was free and came straight round. I just didn't know what else to do. I'd tried and tried and tried to be a better mum, in desperation and frustration I'd even tried shouting at her and threatening to take her toys away. None of it had worked. For the first time, instead of blaming myself and thinking that I needed to do more and be better I just thought 'I don't deserve this, I can't do any more than I already am'. I'm not proud of what I said to Mabel that day, but as sad as it is, I needed to reach that point so that I could see the way forward. Our relationship had reached breaking point.
During a chat with my Mum where I basically just moaned about how hard I'd been trying and how nothing was working, she suggested that maybe Mabel needed some one on one time with me. Well yes she probably does, was my response, but how can I do that? I don't have time, the weekends are so short and such precious family time, and not forgetting that I need to try and have a little time for myself at the weekends too so that I don't completely burn out. The rest of the time I'm on my own with the three of them, it's impossible! And anyway, she already gets more of our attention than the other two do because she's older and more demanding, I already spend my whole day trying to occupy her! But the more I thought about it, the more I realised that my Mum was right. The silly thing was that I had been planning to take her out on a 'Mummy Daughter date' for a while but I had never got around to it. In my head it had to be a special afternoon, an Instagram perfect picture of closeness, probably involving a cafe and shopping. I just hadn't had time to arrange it. But then I realised the obvious thing, she didn't need any of that, she just needed me all to herself for an hour. Time to talk and listen, play and be silly, with nothing to get in the way. She didn't need me to do more, she needed me to slow down and do less. All of her attention seeking behaviour was her way of saying 'I'm here, do I matter? Can you see me? Are you listening?' I've been far too distracted, with the other children, with my blog, and ironically, with trying to entertain her, I've not had time or been present enough to truly tune in to her and work out what she wanted from me. All of the activities I had been trying to do with her had actually in her eyes just been yet more distractions from what she really wanted from me which was time to really connect. In my efforts to make everybody happy, we had somehow lost our connection.
That night I took her out for a walk to the park after dinner. We held hands and skipped and ran, I pushed her on the swings, we chatted and I listened. For that hour, she was the only thing in my whole world, I was just there for her. From that night onwards I have made it my priority to rebuild our connection and she has been a changed little girl.
The thing is being the eldest of three little ones, it's easy to take her for granted. I know I love her more than anything in the world and it's easy to assume that she knows that too, I tell her I love her every day but do I show her? When I spend time changing her brother's nappy, coaching her sister through the highs and lows of potty training, but I hurry her along and encourage her to sort herself out when she yells for me from the toilet, it's just as easy for her to feel pushed away.
But the good news is as soon as I realised the problem, it's been easy enough to fix. An extra cuddle, a 5 minute chat, asking her to help me with dinner, lots of praise, plaiting her hair, painting her nails, and most importantly slowing down and taking the time to listen. All the things that show her how special she is to me. The more connected she feels to me and Carl, the happier she seems to be, the more cooperative she is and the easier life is for everyone. I'm sad that It's taken me this long, but I've finally learned that even when your baby isn't a baby anymore and is a big grown up four year old, it's still all about the connection.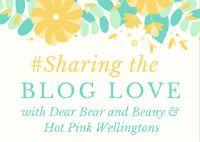 Join the fun
Get a weekly round-up and exclusive content from our home educating, slow living, everyday adventure seeking life...