'You are the bows from which your children as living arrows, are sent forth' Kahlil Gibran
The Living Arrows photo project is about celebrating childhood by capturing it in a photograph once a week. I will be joining in with a photo each of Mabel, Greta and Ernie, hopefully using it as a way to improve my photography skills, as well as creating a lovely collection of photos for us to look back on at the end of the year.
This week our Living Arrows photos are from my nephew Tommy's birthday party which was on Saturday. He was a whole one year old and is such a cool little man, we all love him so much. The other amazing thing for me about Tommy turning one is looking back and seeing how much my little sister has changed over the last year and  how she has grown into the most amazing Mummy. That first year of being a parent really is life changing, and seeing it transform the life of someone close to you in such a brilliant way is really special. So to celebrate Tommy's first birthday, there's one extra photo this week of the guy himself, the birthday boy on his bouncy castle ….
Mabel and Greta absolutely loved the party.  There was a bouncy castle and a ball pit, hula hoops, skipping ropes and bubbles, yummy food and a sweetie table! They both played solidly for 3 hours and were exhausted by the time we left. In fact, they are blurs in most of the pictures I took because they hardly stood still.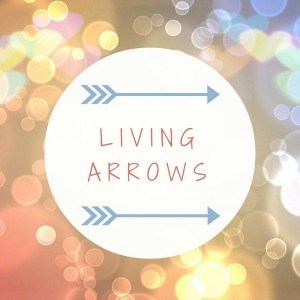 Join the fun
Get a weekly round-up and exclusive content from our home educating, slow living, everyday adventure seeking life...