Another week has been and gone and it's time again to relive last weekend. This Little Big Life is a project I have started with Sarah from Sarah Rooftops to capture our weekends, every week. Whether that's in the form of a photo post or video, the whole weekend or just one little moment, we are focussing on recording those small, normal, family moments that could so quickly and easily be forgotten with the passing of time before you've realised that actually, they are the big moments. You can find my first post in the project here.
Sarah and I would really love it if you would like to join in with our little project and share your own weekend moments with us. We've opened it up as a linky so please come and link up your posts, I'm really looking forward to little glimpses into other people's weekends. All we ask is that you pop by each other's posts and share the love a little bit, I'm really hoping that over time we can build a lovely supportive and creative community that we can all benefit from being a part of. If you want to use #ThisLittleBigLife on Instagram or when you're sharing your posts on Twitter then please do, and if you tag us in your tweets we will retweet them, (@blueberriesblog and @sarahrooftops) but there's no strict rules.
Last weekend the weather was forecast to be grey and miserable, so we had already decided to have a swimming day on Saturday. The plan was to blitz the house first thing and then go out, but by the time we got up and going it was 10am and we just wanted to go out and have some fun, so that's what we did! We spent most of the day at our local fun pools, and everyone had a great time. I even went down one of the flumes with Mabel on my lap, although I'm pretty sure the lifeguard at the bottom was laughing at my squeals as we popped out the end of the slide (at least I hope it was at my squeals and not something more embarrassing). I love taking the kids swimming, all three of them love it in the water so much, they can stay in for hours and the smiles never leave their faces. We had lunch in the pool café, and then Mabel and Carl went back in while Ernie napped and Greta and I watched them from the poolside.
After swimming we popped into Aldi for some essential Saturday night snacks (ice cream, sweets, fizzy pop and cheesecake), and then headed home to chill out, play pop-up pirate, scoff sweets and drink pink lemonade.
Mabel and Greta had a sleepover at Nanny and Grandad's house on Saturday night, so after they had been picked up Carl cooked us a yummy dinner of fajitas and we spent the rest of the night slobbing in front of the TV and eating cheesecake. I'm not one to brag about my baby's sleep (mostly because there's nothing to brag about), but I have to mention the fact that Ernie 'slept through' (kind of) from 10pm till 5am, making that the longest uninterrupted sleep that either of us have had in a very long time! I know it wont be repeated for a while but it was good all the same.
On Sunday morning I felt inspired by the quiet house (weird!) to do some yoga and I'm so glad I did. I've done bits and pieces over the last couple of months but I really want to get back into it properly so I'm following the 30 day yoga camp playlist from Yoga with Adriene on YouTube. The rest of the morning was taken up with a leisurely breakfast and cleaning the house (again), before we headed over to get the girls from their Nanny and Grandad's.
We all went strawberry picking in the afternoon, which is where I made this week's video. Ernie was in his element! He only actually had two strawberries, but by the time we left he was covered in red juice and looked like he'd eaten the whole field, I thought the farmer was going to tell us off!
We go to the same field every year to get our strawberries and they are most definitely the tastiest I've ever had, honestly you can't beat a Hampshire strawberry. After a quick pop in to see Carl's Grandad, we made our way home for dinner and a fresh strawberry milkshake before bed.
Link up your posts bellow and don't forget to pop over and say hi on Sarah's post.
Loading InLinkz ...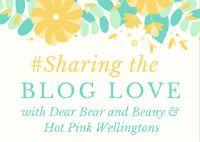 Join the fun
Get a weekly round-up and exclusive content from our home educating, slow living, everyday adventure seeking life...