My Mum's Mum, my Nanny, was a very wise woman. She was a huge part of the first 10 years of my life, until she sadly died of Cancer. The fact that I was only 10 when she died, and yet I still think of her daily and the lessons that she taught me are still held strongly in my heart, is testament to the amazing, loving woman that she was. I often think of her when I am struggling with parenting and find myself wondering 'What would Nanny say about this?'.
One of the things that I remember about my Nanny was that she was really big on self esteem. She was constantly telling me and my sister how amazing we were, how much she loved us, how much joy we brought to her life. Even her nicknames for us were gushing with love, I was called 'adorable person' and Rachael was 'delicious and delightful'. She made sure that we were never in any doubt as to how loved we were, how important we were to her, or how special our unique individuality was. At the time, I didn't quite appreciate why… she was just my lovely Nanny.
One day my Nanny took me and my sister into the garden with a jug of water, and a cup on a tray. The water in the jug she explained, represented love, and the empty cup was a person. She told us to start pouring the jug of water into the cup, representing us filling the person up with love. We dutifully did as we were told, four little hands clutching hold of the heavy jug of water, pouring it into the cup until it had almost reached the top, and then we stopped. The cup was full of water, the person was full of love, and we looked up at her quizzically, thinking 'ok, so what's your point?'.
'Keep going!' she urged us to pour more water in. We didn't need telling twice to make a mess, so in went the rest of the water, which of course spilled over the brim of the cup and into the tray beneath.
'Do you see what has happened?' Nanny asked us. We looked at each other. I can't speak for Rachael, but I know that at that point I certainly didn't have a clue what this was all about. But we listened as our Nanny explained that we had filled the person with so much love that they were overflowing with it, it had spilled out of them and they now couldn't help but fill other people with love too.
It was her way of showing two little girls that love is always the answer.
Growing up, my Nanny's values have stuck with me and I have always tried to remember to live my life with empathy, love and positivity. It's not always easy to achieve, but I try. In raising my own children, my main concern is, and always has been that they are kind to others. All their lives so far I have tried to model kindness as much as I can, and I've hoped that it would rub off on them.
So when either of my girls act selfishly or unkindly, as children are all bound to do at some point or another, as natural as it is for their age and stage of development, it really upsets me and I start to wonder where I have gone so terribly wrong and how can I fix it? And that's where my Nanny's lesson with the jug of water comes in. They don't need fixing, they don't need disciplining, they don't need punishments or consequences. They just need love. Of course I tell them that they have been unkind and it isn't nice, but I do it in a loving way as much as possible and then I change the subject, change the activity or change the scenery, and I give them more of my love and attention.
I have noticed time and time again that when my children start acting unkindly, it's because I have been distracted and unavailable. They need more love, they need me to fill their cup. Of course it still happens even though I'm aware of it because nobody's perfect and being a Mum is hard, there's so many balls to juggle and things to prioritise, but keeping this thought in my mind means that as soon as I realise it's happening, instead of fighting against them and the day turning into a battle, I can easily pull it back with a bit of love.
So how do I make sure that I raise kind humans who grow up to spread love in the world? I show them kindness, I show them empathy, I fill them up with as much love as I possibly can, it's as simple as that. And I'm pretty sure that would be my Nanny's advice too if she was here to give it.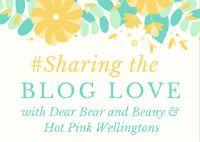 Join the fun
Get a weekly round-up and exclusive content from our home educating, slow living, everyday adventure seeking life...